Now serving the following areas; Loomis 95650, Newcastle 95658, Auburn 95602, 95603, 95604, Roseville 95678, 95747, 95661, Penryn 95663, Rocklin 95677, 95765.
Welcome Now Accepting New Patients!
Call now for Appointments (916) 672-8470
Offering Affordable Chiropractic Services to the Foothills for 17 years
At Newcastle Chiropractic Center our approach is a simple one. We believe that good health is our most valuable possession; one that provides quality of life and a lifetime of quality.

That's why we're offering our New Patient Special for just $19. Call 916-672-8470 today and ask to "Get Started" !

On your first visit to our office you will fill out some forms about your condition and then see doctor Gillespie. Doctor Gillespie will perform a complete physical examination with patient report of findings. He will then perform an adjustment and vibracussor massage. All covered by our "$19 New patient Special" and Exclusive "100% Satisfaction Guarantee". When getting started, we will discover where you hold your stress and assist your body in correcting the dysfunction known as subluxation.

Chiropractic works best in the preventative mode so we will create a healthy strategy that you can follow to keep the problem from recurring including massage, lab work, exercise, yoga and nutritional programs. Staying healthy and vital is an everyday challenge, so we'll empower you to take charge of your daily health regimen.

In most cases Patients' call our office when they have already become physically out of balance, or are experiencing symptoms that interfere with their ability to perform at work or enjoy life. Other patients visit us regularly to ensure that their spine and extremities remain in good working condition and have regular Chiropractic adjustments to keep it that way. At NCC we believe that all people at any stage of life would benefit from focused regular Chiropractic check-ups.
© Newcastle Chiropractic Center 2012 All Rights Reserved.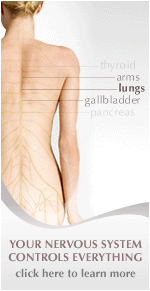 "Quality Care for Quality of Life"